The best Christmas since I was a child!
I don't think I've had such a great Christmas since I was a child myself! Liv really makes us see things in a new way. She is so enthusiastic and happy about the smallest things, it just makes you smile! :)
I would say, "Everything worked out perfectly," except that the weather gods weren't on our side (almost no snow!) but then I remembered our AMAZING northern lights a few nights ago, and I take that back. I think the weather gods were celebrating the turn of the sun! We're now getting more and more light every day until June 23rd when it turns again :)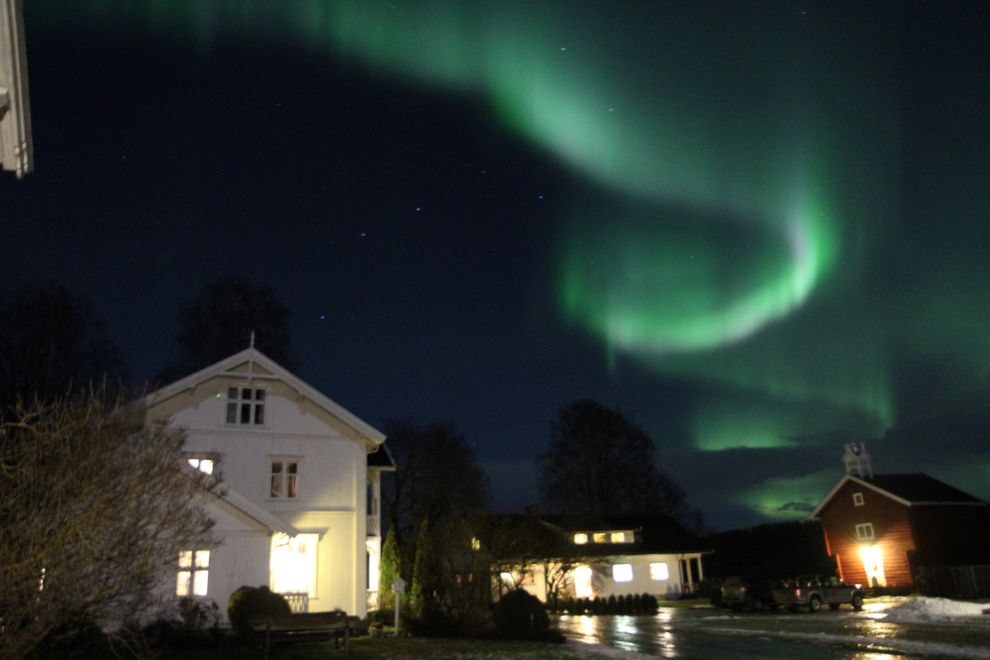 This was the coolest picture I think I've ever taken on a winter night at the farm!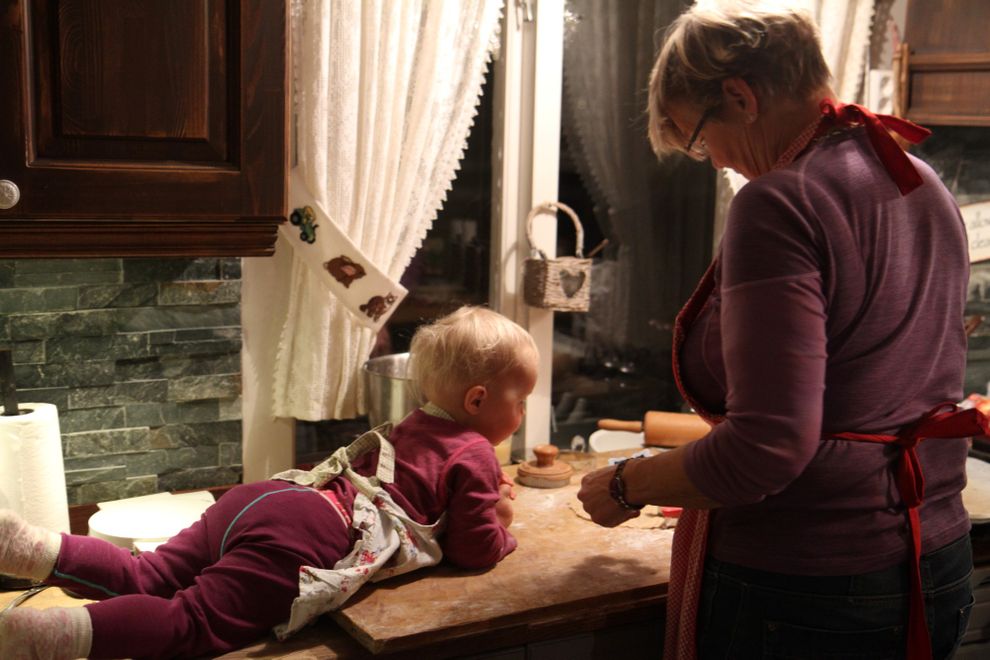 Well, back to Christmas. We just had a few types of cake left to bake, and my mom came to finish them with Liv. She is now almost an expert, having made 9 (!!!) different types of cakes in her kindergarden in December! What a great 1,5 year old to have in the house. Leaves no work for me! :D He he...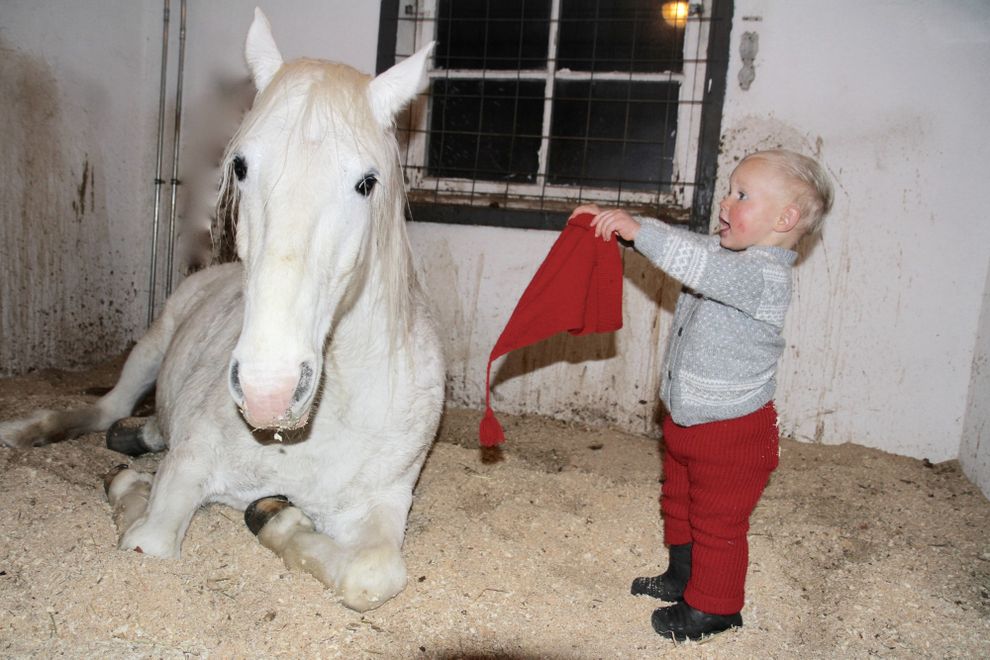 On the "little Christmas eve" (23rd), we went out in the stable to give Santa his porridge. Liv was very excited about this Santa thing (we call him Nisse and he lives in the stable). We had told Liv if she gave the Nisse some porridge, he might come to her with presents the day after. Even so, she was more eager to give Capra her Nisse hat than to give the actual Nisse his porridge.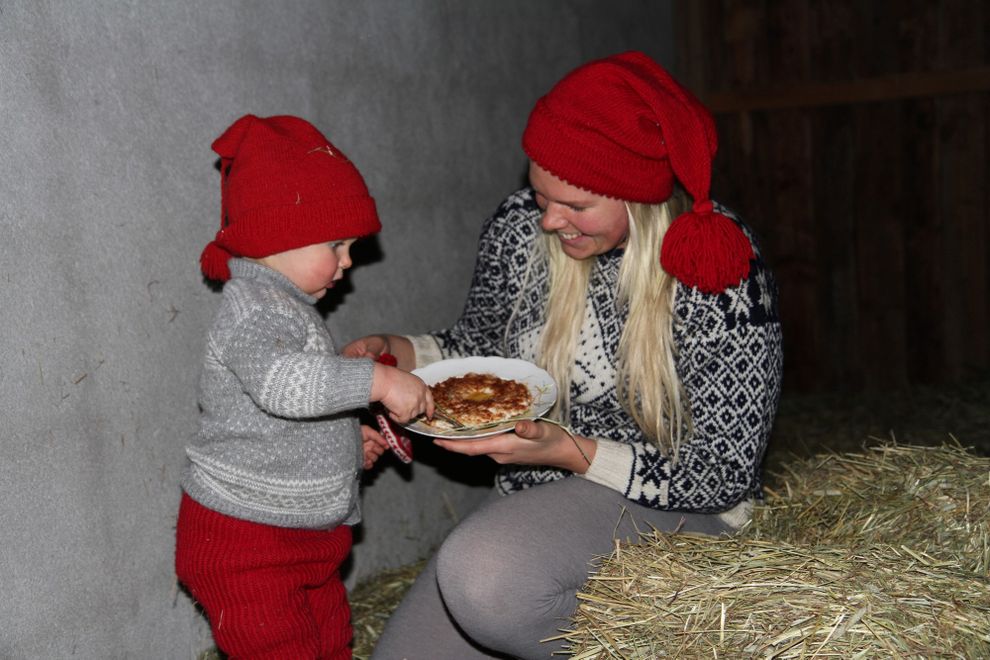 Eventually, we did deliver the porridge.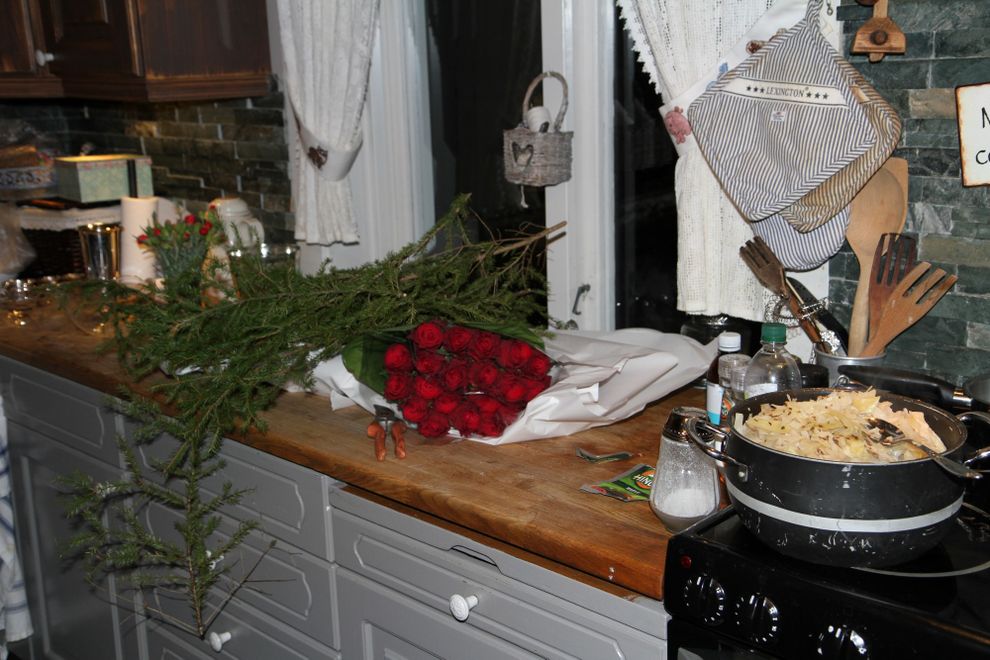 On the night of the 23rd, I transform our house into a Christmas house. Here is sour cabbage boiling, and flower decorations getting ready while listening to Christmas music.
It turned out quite cosy, I must say :)
Here in Norway, we celebrate the night of the 24th as our Christmas. The whole day is a "recipe" and you can't miss any ingredients. Every family has their things, but a majority of Norwegians watch a Czech movie called "Three Nuts to Cinderella", and in that movie she goes horse back riding in the forest, and across fields. Since I was little, I have HAD to do that. Makes me suuuper happy! :) hehe..
Dinner time! Liv is such a resourceful helper. You name it - she does it! :)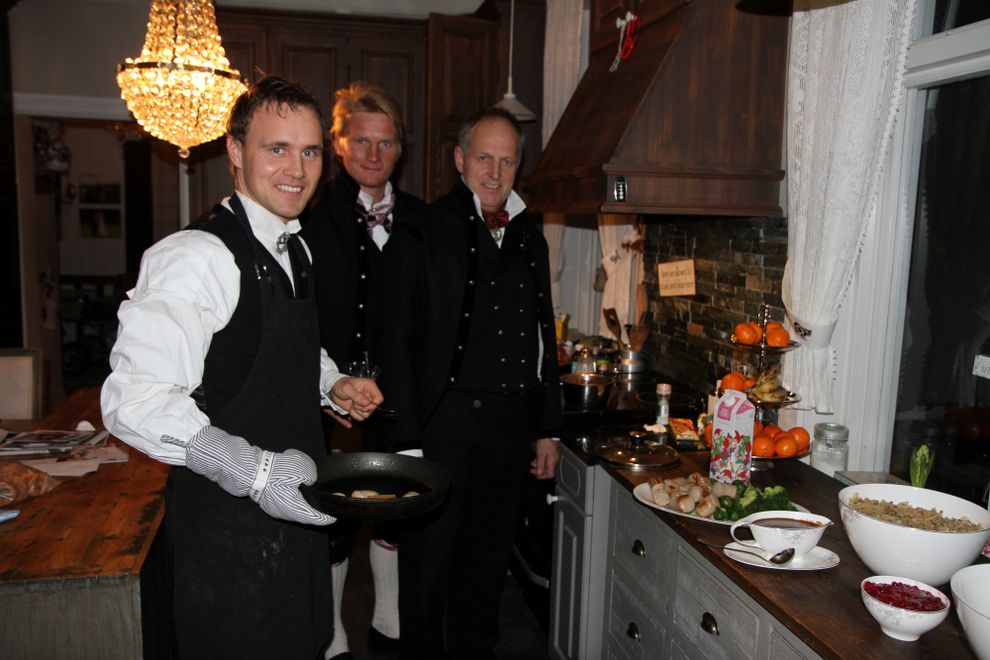 My brother, Ole Gunnar, and his girfriend, Linn, were with her parents this year, so it was Kristoffer, Knut, Dad, Mom, me and Liv.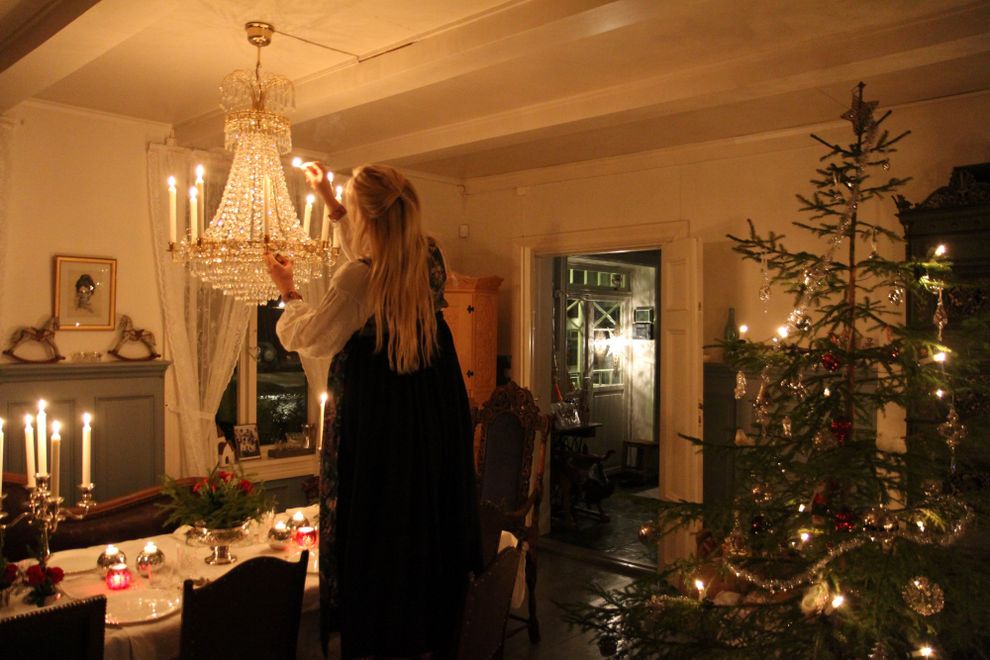 We sit in the old livingroom and the only light is from candles...Extremely cosy and nice. And we are all wearing our national costumes.
How did you like my Christmas table? It's pretty much the same every year, but I love it!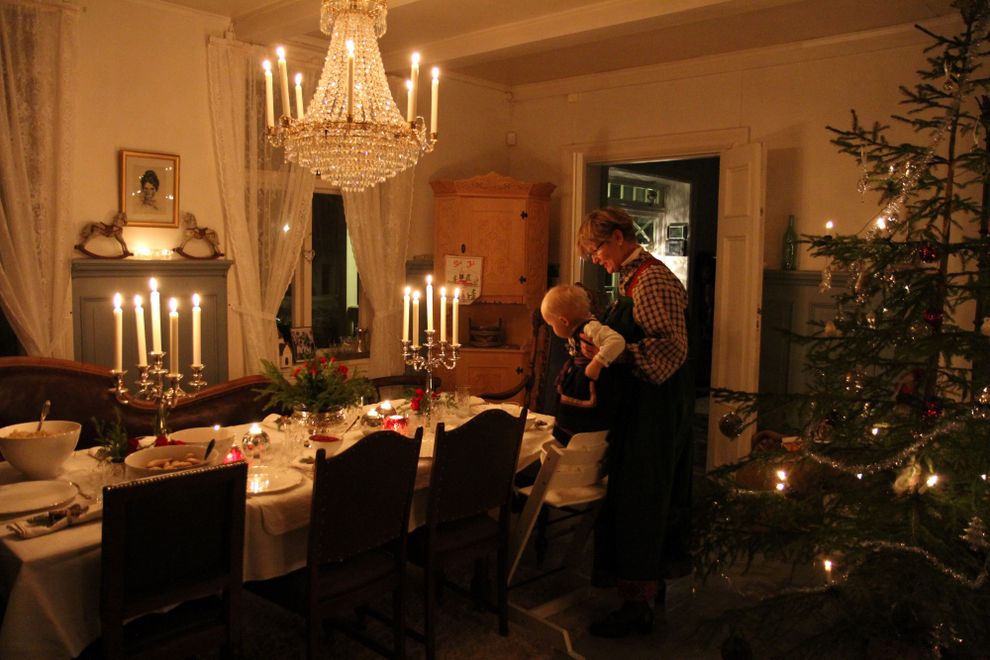 Mom helping Liv into her chair.
And what do you know!! SANTA CAME!!! We did think he looked quite a bit like uncle Knut, who at the time had to excuse himself and go to the bathroom.. and the toiletpaper beard???? Well well, Liv didn't realize anything else than that NISSEN CAME and she got some presents!
She was super excited! And she screamed with happiness at the sheep skin vest I made her!! I wish I had filmed it!! She is FUN to give gifts to. We had told everyone we have so much stuff, and that we didn't want much presents, so Liv got a bit of wool underwear, home-knit sweaters, some books, and some wooden toys and pink-towed wool mouse slippers. Lucky girl!! ;)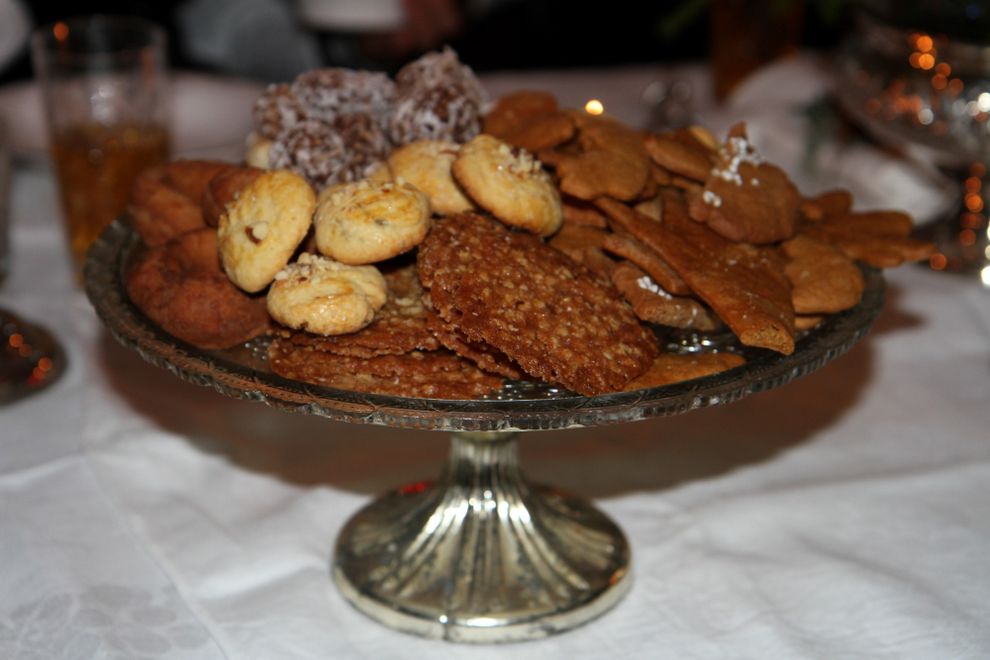 Liv's cakes.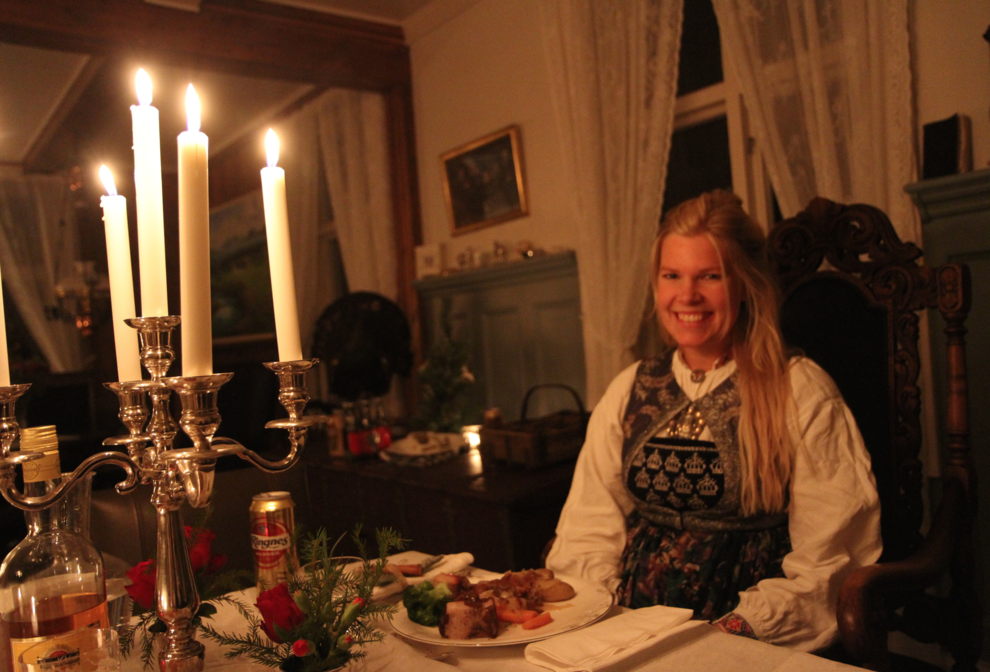 It was a magical evening, just like to see Liv so excited. It meant a lot with our traditions, and know that they are her's now, too. Very Mery Christmas to all you wonderful readers. Hope your Christmas was special as well <3