"In the beautiful mountains of Norway, in the land of the northern lights and the midnight sun, lives Farmgirl. Here she blends old traditions with new, living with her family in harmony with nature." We invite you to follow us on our journey back to the roots, back to a life in harmony with nature and our inner self. Come join our fairy tale!
Hei hei, and welcome to my blog.
This blog is meant to be an inspiration and bring joy in your daily life. I hope to inspire you to want to be more in the nature, and to have awareness of what food you eat, how you spend your time and money, and how you treat the earth and yourself.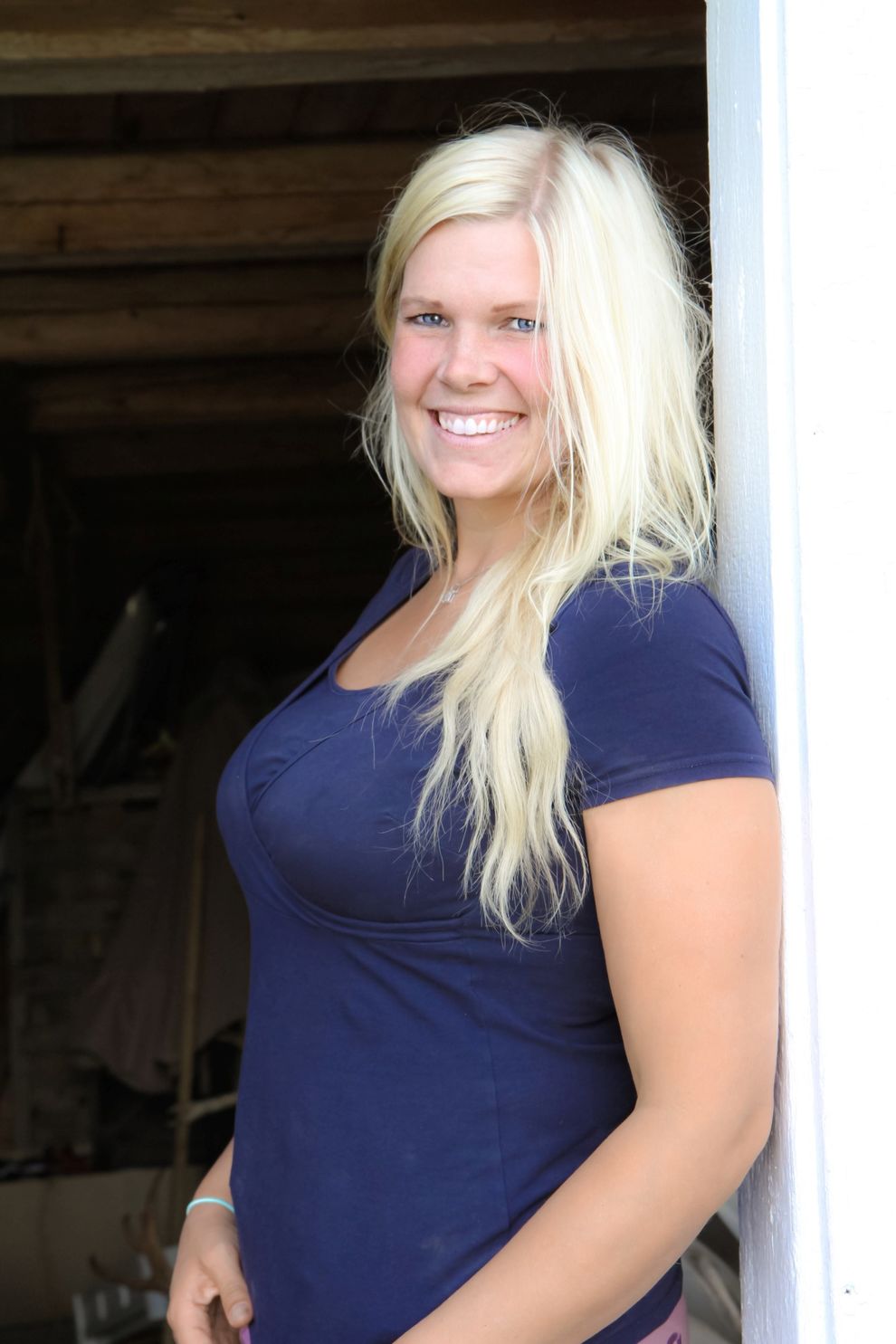 "Farmgirl of Norway – Back to the Roots" came to life for many reasons. As I have grown up on a farm and have also lived in cities, I see how far away normal people are getting in their mindset from both the way food is produced and how they are connected to the earth. I think it's sad that the new generation which is now growing up thinks that meat is something that grows in the grocery store.

          

I invite you to "join us," as we develop ourselves and our

perspectives.. We are, also, at the beginning of our

journey.
Our goal is to live harmoniously with nature, to develop once again the old, inner wisdom of intuition and spirit, to give meaning to the life we live and to live in a way that is sustainable for the earth.  Follow our journey back to the roots, in beautiful Norway, of ancient living of ancient knowledge in today's modern world.
About me
My name is Live, ( pronounced "lee-vah", and it means "life")
I´m 33 years old.

I grew up on a beautiful farm in the middle of the little country Norway. I have always been a happy, enthustiastic and outgoing person. I love seeing the world and sharing with people about where I am from.
Traveling
I have spent three whole years traveling the world before settling down on our family farm. I have been a foreign exchange student in USA, Las Vegas (!!) ; I have been working on farms and traveling Australia; I have been studying in Playa Del Carmen, Mexico for 4 months, as the beginning of a 10 months' journey through Central, South and North America with my husband Kristoffer; I visited all the continents by the age of 17, and I LOVE traveling. I think it has given me a lot of perspective in life, along with great experiences.
School and work
I met my husband Kristoffer while taking a bachelor degree in Economics in the University of Life Science in Norway. I studied two master degrees: one in Entrepreneurship and Innovation (that I wrote my thesis in), and one in Nature-based Tourism. I have had many different small jobs during my youth, like working at the ski rental at our mountain for several years. After my schooling, I worked as a project manager, developing different businesses in Norway, as well as helping people start businesses in Bosnia and Kosovo. I have for a very long time felt a "calling" toward sharing my knowledge on the basic things in life, wrapped in a package that would catch people's interest...Hence, this blog!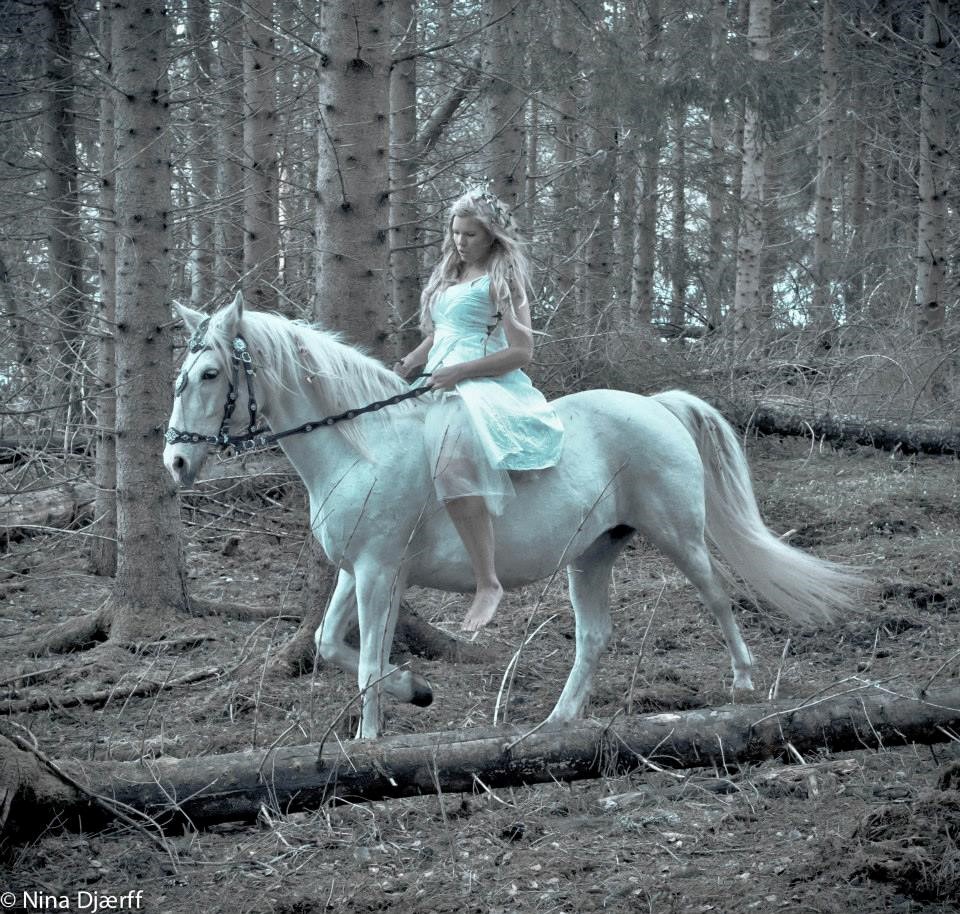 Interests
I love the nature and what it can bring us. I love our horses, farm home, interior design, cooking, making things, traditions, horseback riding, and outdoorsy activities like hiking, kayaking and cross-country skiing. I love being outside, and I love to see other people's joy while mastering the things I find important. I'm very interested in finding our way back to the roots, in every aspect of the word. Finding ways to use the world in a harmonious way that is sustainable and pleasing to people as well. Finding ways for people to nourish themselves that does not hurt either humans or nature. Finding our way back to the spiritual aspect of our lives.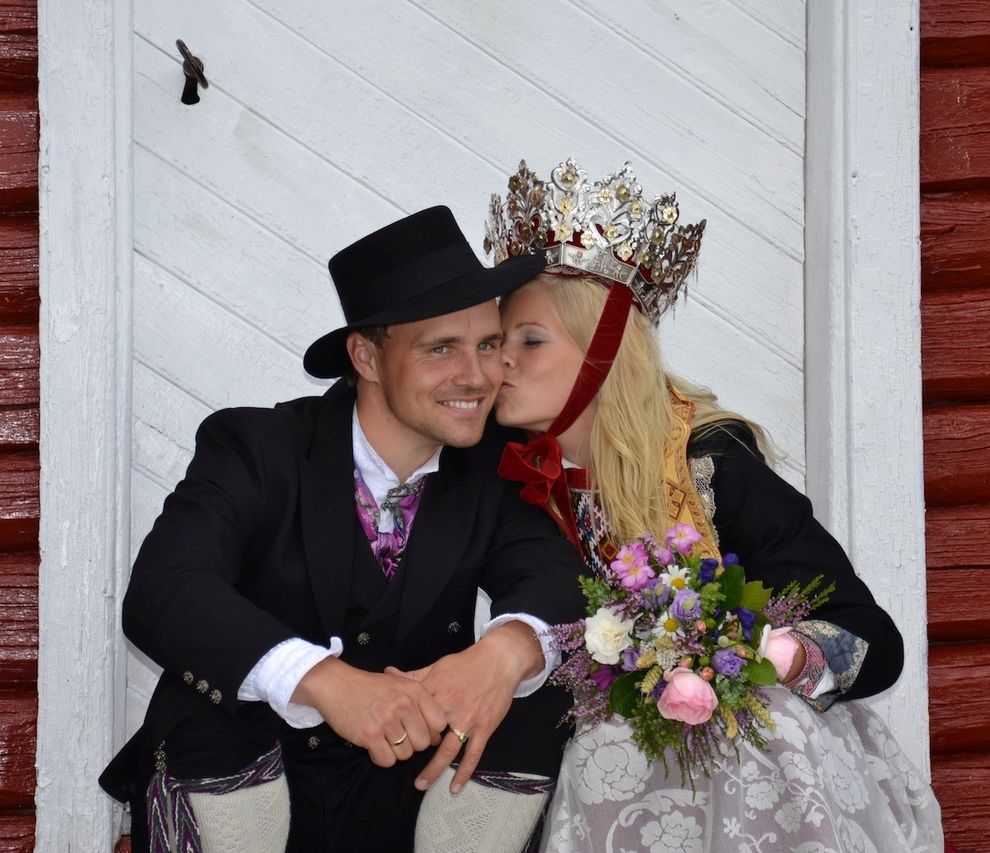 Kristoffer (34) and Live (33) – We met in university. We finished our masters, moved home and got married in 2011.  We are both from farms, but Kristoffer is youngest of his four siblings, and I am oldest of mine, so it was my home farm we got to inherit. We both share the philosophy of wanting to help the world for the better, and if we by sharing our lifestyle, and way of thinking can contribute to that, that would be wonderful.
Kristoffer has a master of business administration (MBA) with energy economics as his major. He is primarily a farmer, but in the winter time, he runs a project that helps people switch to greener energy, mostly farmers wanting to start with Bio Energy. Our farm runs on bio energy – a power plant we built in 2011. Kristoffer is a kind, down to earth guy and an amazing husband. He solves everything and always has something good to say. He loves outdoorsy stuff, and on the top of his list is hunting.
Liv- our firstborn daughter. Liv was born in February 2014. 
Halvor - our son born in june 2017. 
The Farm Family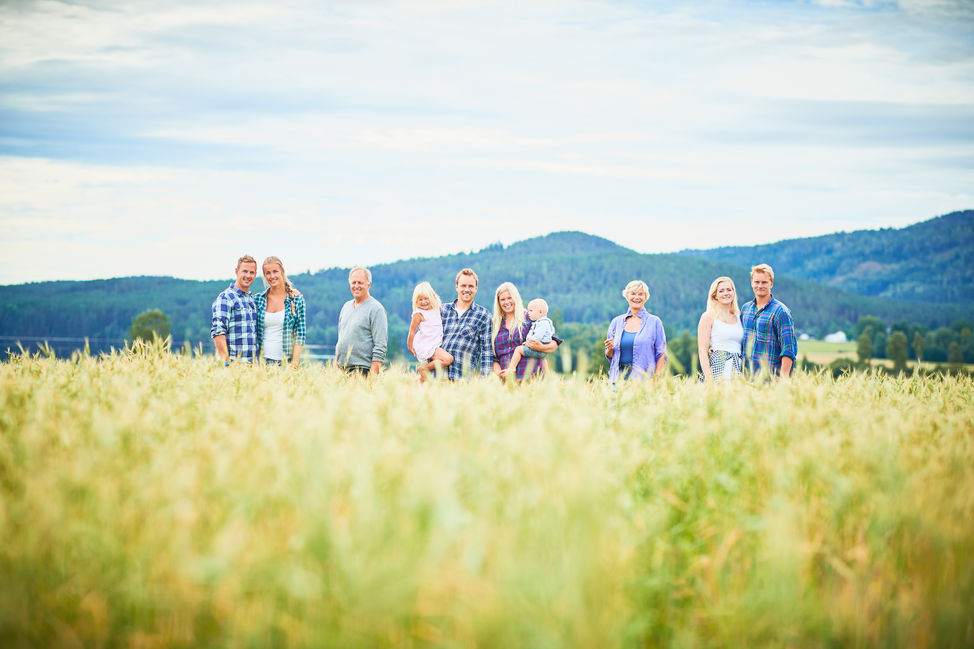 About the farm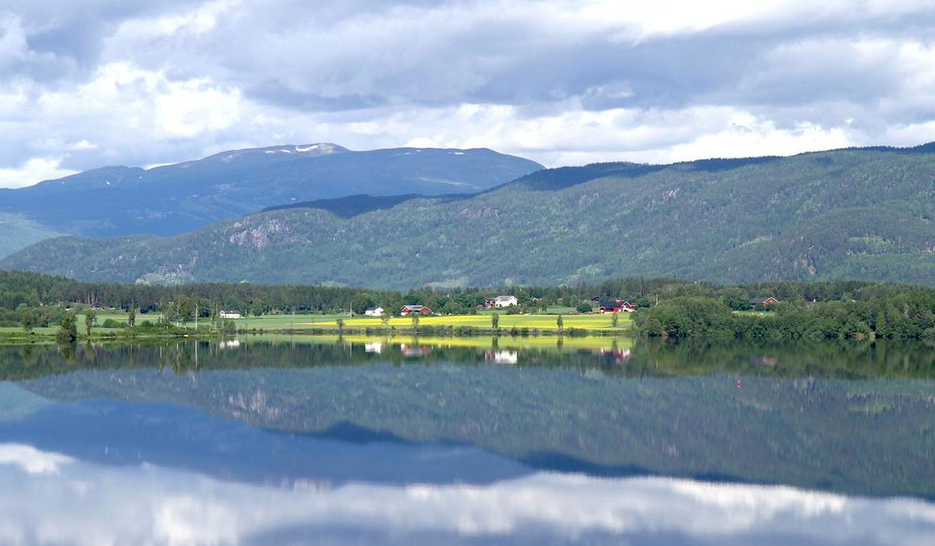 Our farm is located under the Northmountain on the east side of the country. Quite funny that the Disney movie Frozen also has a Northmountain, and that the guy's name is Kristoffer  - like my husband! I almost felt we should make a new Disney movie here! Do you guys know anyone in Disney I could talk to? ;)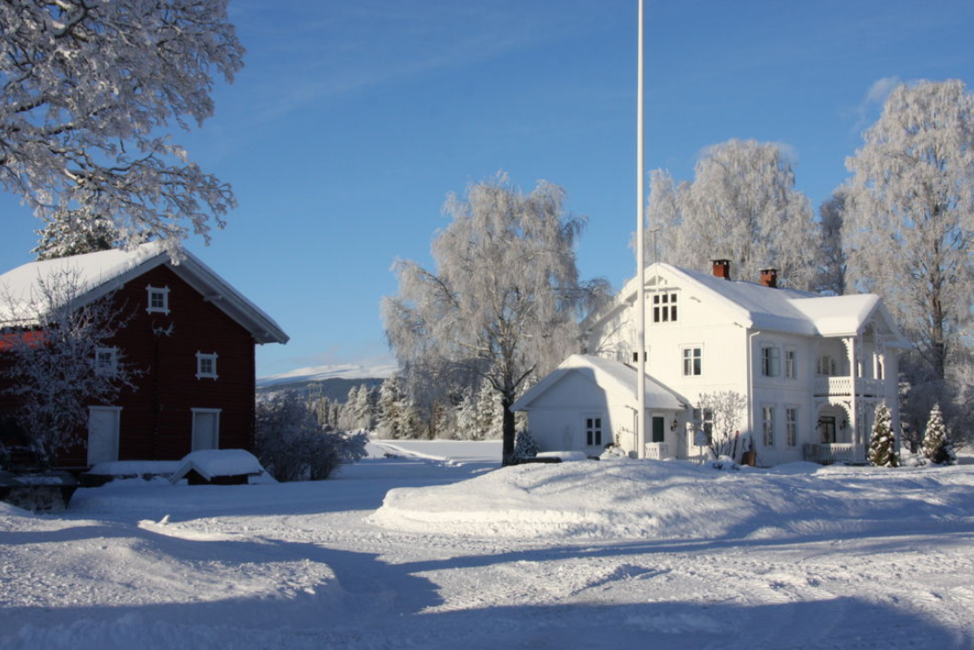 The farm has been in our family lines for at least 11 generations, since the 1700s. We know from an old leather letter in the village that the farm existed in 1301 but if you look at where it's located (surrounded by water with fertile grounds), it's very likely that there have been people living here since the last ice age. When the ice retreated, people came. We have found a lot of Viking remains in the village too, so it's safe to say that there have been people on these lands for a very long time. The farm also has a lot of forest on both sides of the lake. It's big-scale to be a Norwegian farm. We have about 300 dekars of farmland for growing, and 6500 dekars of forest.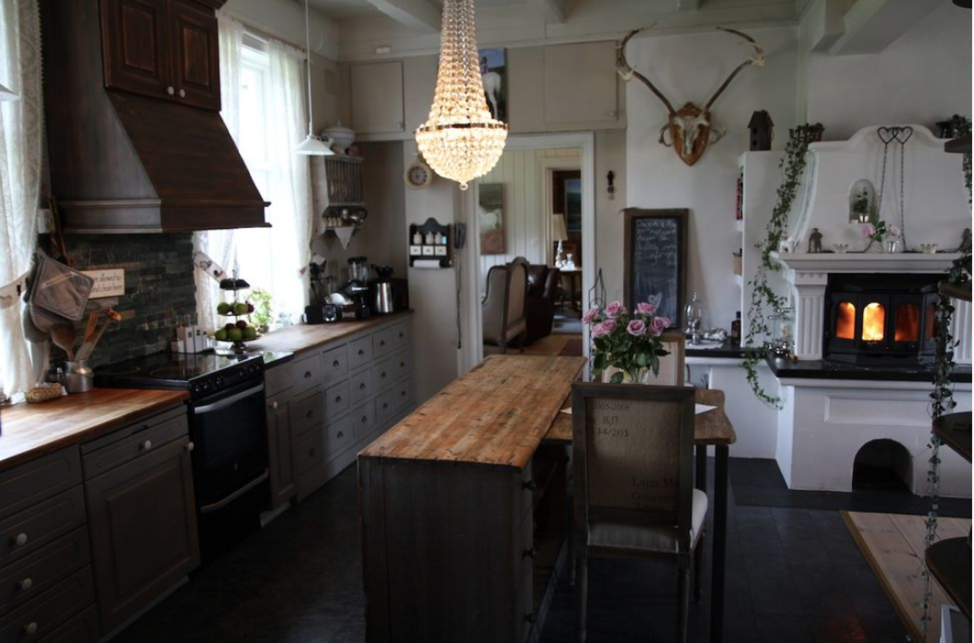 Our kitchen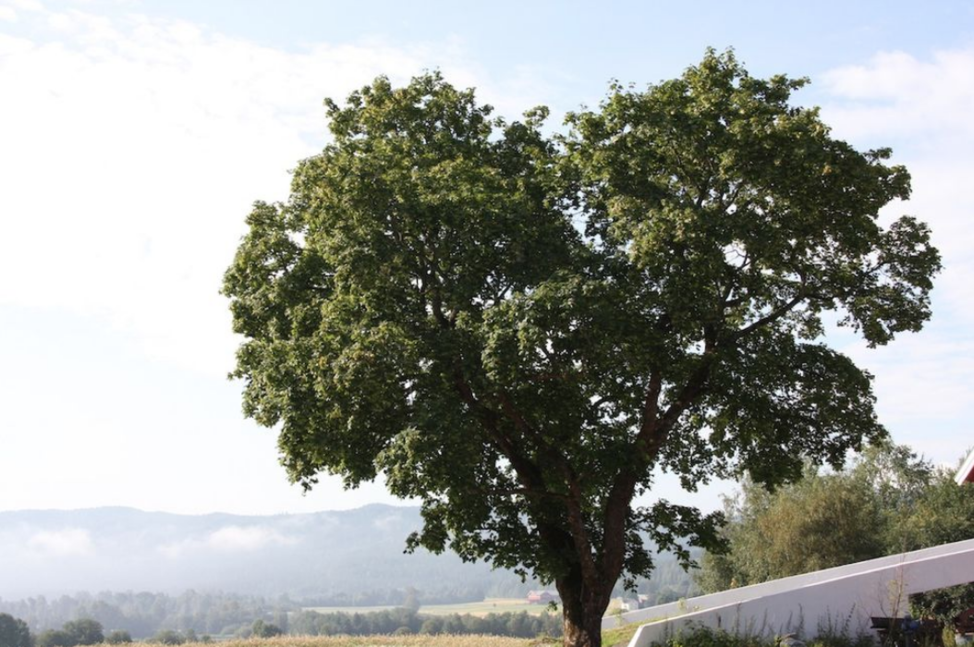 The heart-shaped tree on our farm. We have not done anything to make it look like that - it's natural. Cool, huh? :)
About Norway
Norway is a little country with about 5 million inhabitants. We are fortunate to have amazing nature here, with deep fjords and high mountains. Norway is a part of Scandinavia, and we are the most northern country  in Europe. We have natural phenomena like midnight sun (where the sun never sets in the summer), and northern lights in the winter (aurora borealis) . We have a lot of wildlife, and an amazing cultivated countryside, as well as untouched nature, and beautiful cities.  Our country's slogan is "powered by nature" and that is true in so many ways! If you want to check out the country to travel here – go to our official travel page www.visitnorway.com
The horses
I got my first horse when I was 6 years old. My mom and dad taught me a lot about responsibility, and I had to take care of the horse myself in order to keep it. I have gotten almost wild horses to tame during my youth, and trained them to be very people friendly and easy to ride. The horses I have now are as much beauty and good energy as good riding horses. El Capitan (I named him after the mountain in Yosemite) is a shaggy Arab, male, 18 years old, imported from Sweden. He is an ex-show horse, so he's very good to ride! His nickname is grumpsy, because he is old and stiff. His gallop is amazing. The Ponny is just called Ponninn, but his real name is Brithon Magic, but Liv cant pronounce that, hence Ponninn. He is a shetland breed and is 9 years old and the best pony one could ask for. Super cool and sweet and can be done just about anything too without trouble, witch means Liv often try to lay down and sleep on him :)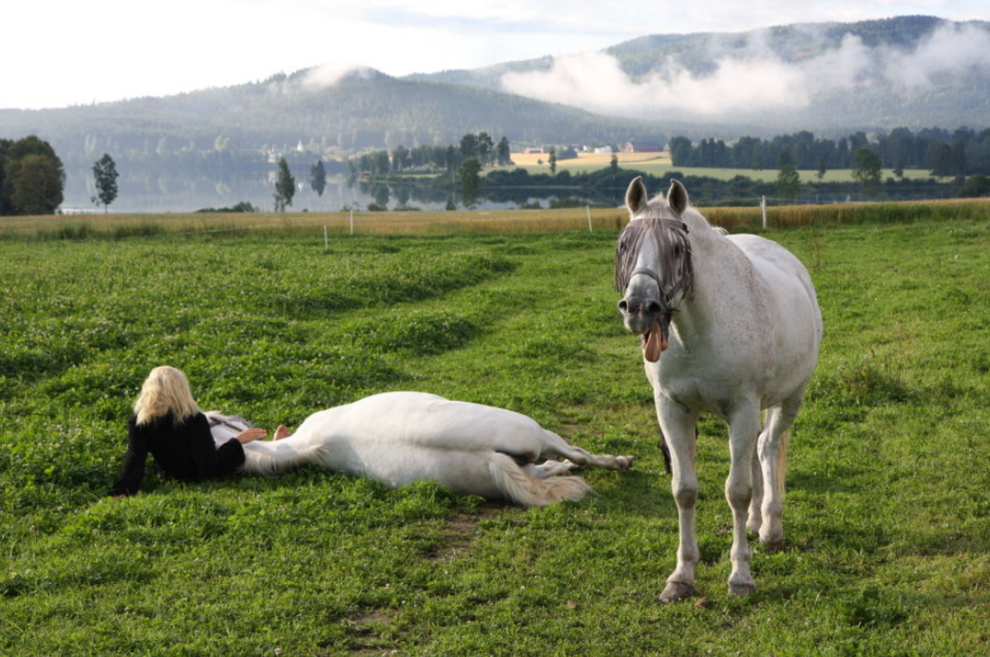 One early morning.
 The cats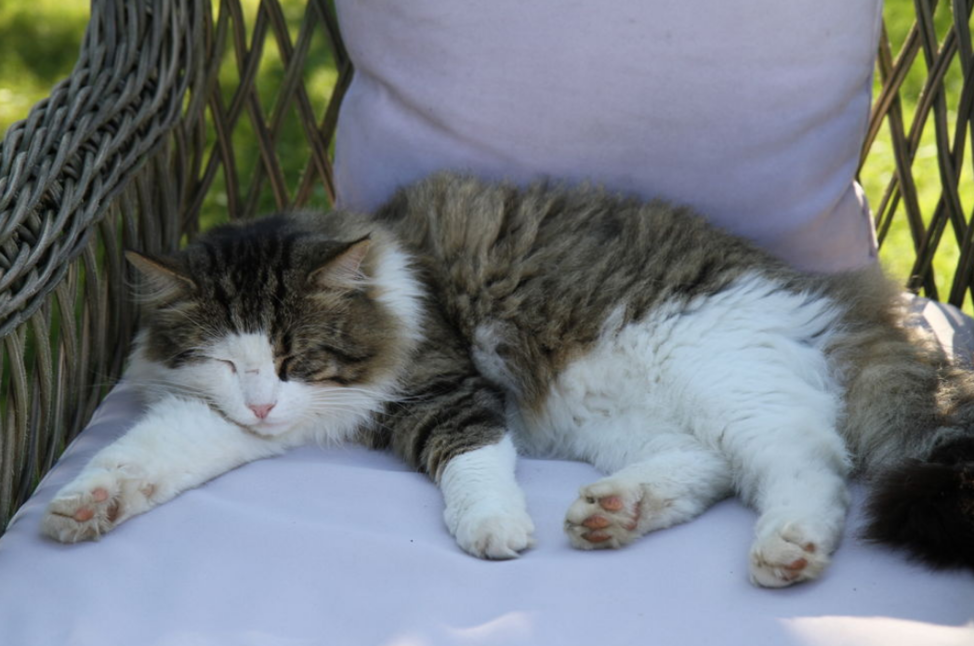 Mjæw1 is a 8 year old male. Half Norwegian Forest cat and half Maincoone, although he thinks he is half lion. Loooooves to cuddle, almost to the extreme! Both have their home in the stable, but love to come inside the house.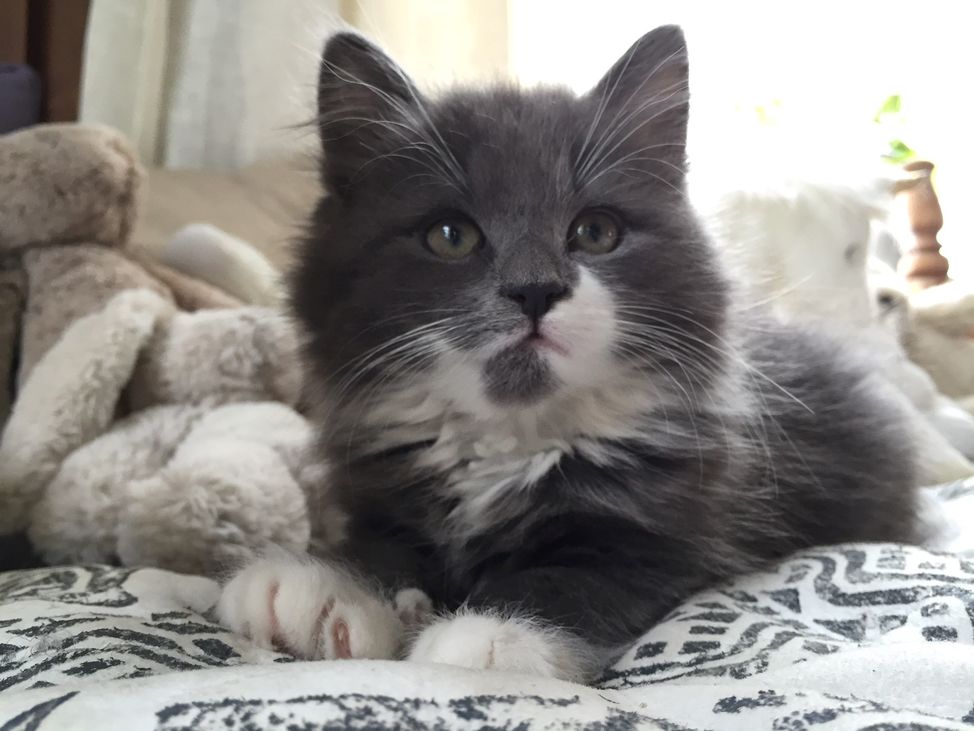 Pusilen Fluffy is our newst family member.
The dogs
All of our dogs are Norwegian Moose Dog, or Viking dogs as they are called. Bamse is the oldest at 8 years (male). Vesla, 3 years, (female) and our new, little angel puppy that the whole family pitched in and bought Kristoffer for his 30th birthday, Frøya. Frøya is named after the Norse goddess. Bamse and Vesla are family names we have had for generations. The Norwegian moose dogs look a lot like the wolf, and are known for not being so friendly, but we have included them in the family since they were puppies, so they are not aggressive at all with the people they know. They are used for moose hunting in the fall.
Our chickens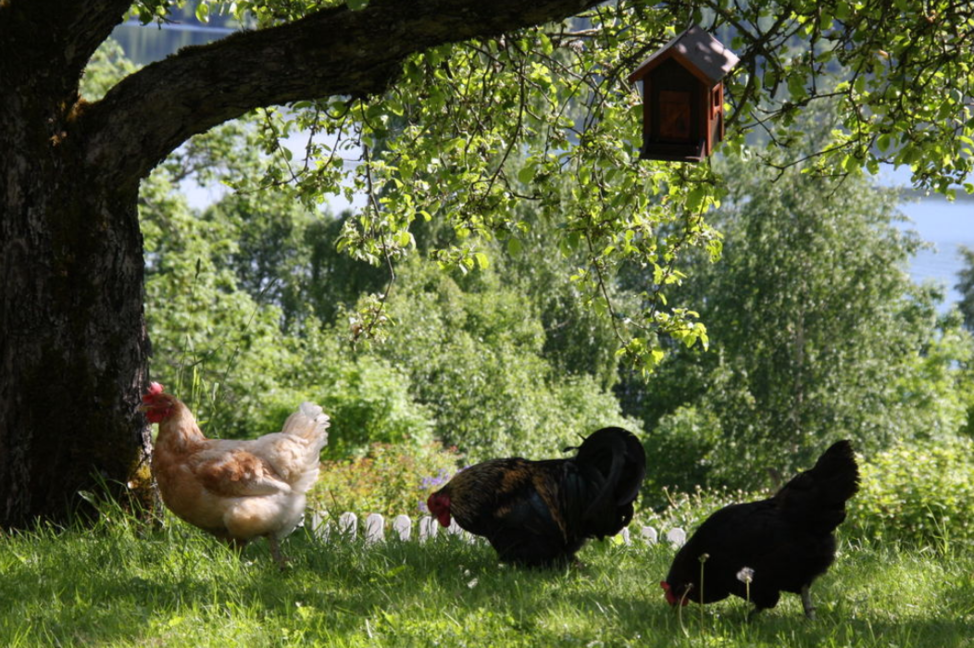 We like to be self-supplied with eggs, and really like to preserve the old species. That's why we have chosen old types of chickens, many different types, in fact! They used to walk freely until we realized young Frøya (the dog) had started to kill them. Now, they have a special area of the farm to roam that we will build a new fence for next spring.
Happypigs
We have pigs in the summer: a breed called Durox that are walking freely in a huge forest area by the lake. They are slaughtered at the farm our very own farm slaughtery, were we are able to end the pigs life in the forest, in they'r stressfree habitat, with extremely high electricity so that they are gone in 0,01 second and does not at all realize whats about the happen.  It's amazing to see what this process adds to the pigs' quality of life, and how pure the meat looks and tastes. People that can't have pig meat because of the acid CAN have HappyPigs, both because they get to move around freely, and use their energy and noses like they would in nature, and how they are fed, along with the home-slaughter. If you are going to eat meat from domesticated animals, it sure doesn't get better than this!!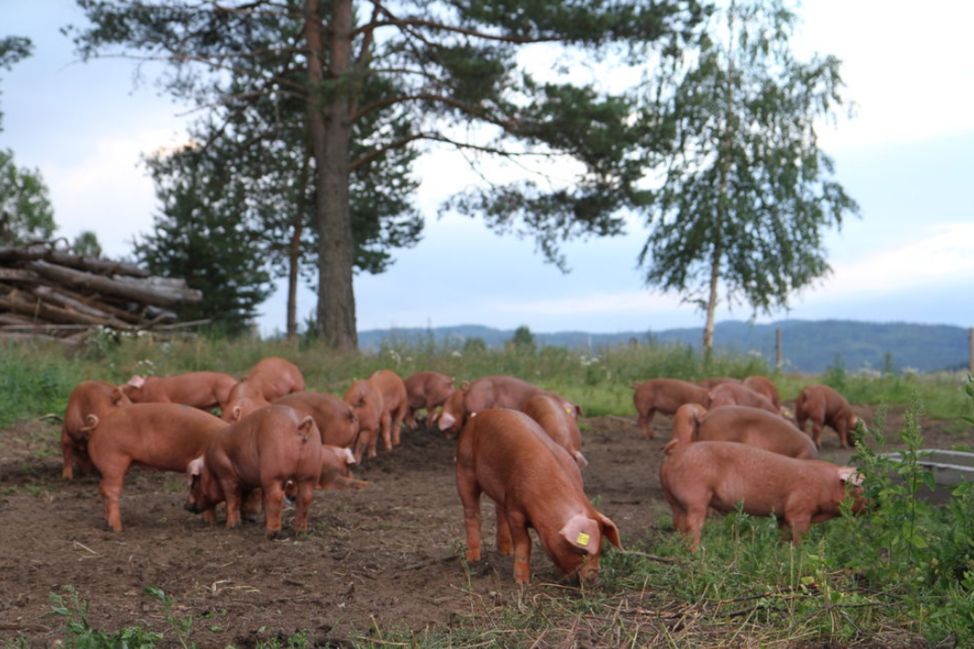 Sheeps
We also hold Sheep! We have 70  winterfeed. They are an old Norwegian breed called Gamel Norsk Spelsau